November 12, 2019
Technology In The
Construction Industry
Is Changing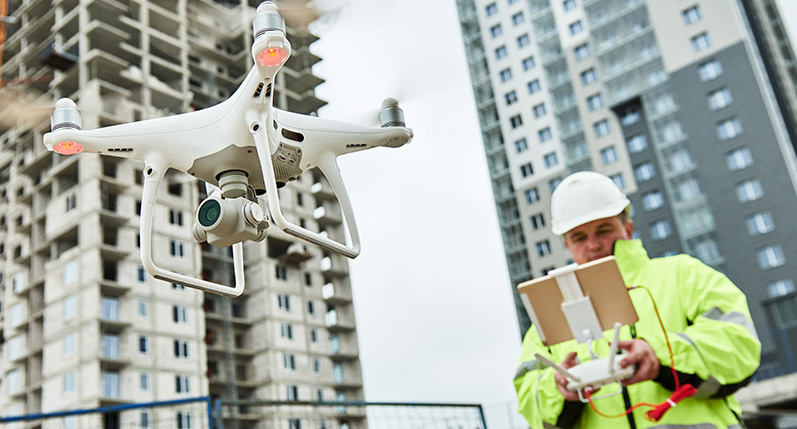 Technology has changed everything in our daily lives, but one of the places where it's changed most notably is in the construction business.  True honest-to-goodness blueprints, once a staple of contractors worldwide, are now being substituted with modern PDF plans wherein everything from a scope of work to an entire set of architectural, mechanical, and structural drawings can be encompassed in a single email.
Not only has technology changed on the planning side, but it very much has infiltrated the actual execution of a job.  Here are some ways tech has challenged conventional construction.
Drones and GPS
While surveying properties and job sites with your own eyes is still very much a real part of construction, as trades become more national and jobs stretch hundreds if not thousands of miles from home base, we're relying on technology to do some of the survey work for us.
A transit still has a valuable role in surveying for site prep and elevations, but with drone technology and the ubiquity of GPS, contractors can virtually survey a property from anywhere in the world.  This can save valuable time and resources both on the job and in travel to look at jobs.
Virtual and Augmented Reality
Architects have been using computers to illustrate their plans for years, but now contractors can leverage augmented reality to show their customers exactly what they are talking about in a language that anyone can understand. 
Subcontractors benefit especially from the ability to take pictures of jobs on phones or tablets and transfer that information to a computer program where drawn images and dimensions can be input.  Most often, the value in this is to help general contractors more readily understand how subs will execute plans and help building inspectors see the construction before it actually begins.
Collaboration Software
One of the challenging aspects of general contracting is coordinating with subcontractors, building owners, and tenants about the process and progress of a project.  While not everyone needs to know everything, it helps to have software that allows the GC to collaborate with the important stakeholders of a construction project.
Most businesspeople are familiar with collaboration software to help teams work together and communicate effectively and efficiently.  Software such as Slack, Dropbox, Trello, and Basecamp to name a few offer businesses as well as contractors and stakeholders a way to seamlessly communicate, work together, and plan for future and current projects.  Best of all, there are fewer wasted phone calls and emails for simple questions with simple answers.
Building Automation and Smart Technology
Moving slightly away from planning and more towards execution we find building automation.  Johnson Controls is one of the leaders in building automation and control software worldwide but with more and more homes becoming smart homes and businesses becoming more in tune with their environmental impacts and productivity, newcomers are on their way into the automation marketplace.
Building automation and smart technology will become an omnipresent part of both our home and business lives over the next few decades and contractors, like us, will need to be prepared to adjust.  Automation and smart tech takes planning in order to make the infrastructure work during the construction phase of any construction project and project managers will need to be able to adapt and make adjustments on the fly.